I love picture books – at any age – and this week the two picture books could both be enjoyed by any audience. Many people think picture books are only for younger children, but they provide such amazing opportunities for discussion at any age. At Harlow Green, we use them in every year group within English lessons and end of day stories and they often provide the stimulus for some of the children's best writing.
The Crayon's Trick or Treat: I know Halloween has come and gone, but this newest addition to the series is equally well-written and hilarious as Purple crayon teach the other frightened crayons what to say at Halloween.
Lord of the Forest: A really beautiful picture book; written with stunning similes that has a deeper message about finding your true worth.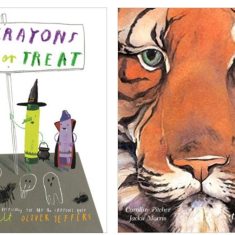 Whatever you are reading at the moment, as the night's get darker and colder, it is perfect for curling up and reading a good book.