Starting Reception is an exciting time and the start of a wonderful educational journey.  In normal circumstances, we would support children and parent/carers with a transition into school over the summer term and then at the start of the autumn term.  However, unfortunately, these are not normal times and we will have to do things a little differently.
To support transition in the current context, we will be providing information, photographs and videos which will help families become familiar with Harlow Green and Reception in particular.  We really hope this will help families until we get to see everyone in person.
Early Years Prospectus
To help parent/carers understand how Nursery and Reception is organised, we have produced a Prospectus which is given to parents/carers when children start school (please click on the image below for a PDF version).  Although we have a lot of information on our website, this booklet will help focus on this particular area of school, especially for those are new to children starting school.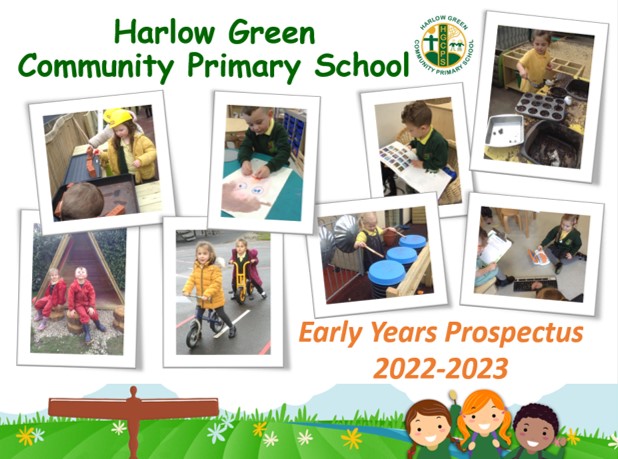 Click here for a web book version of the prospectus.
Starting School Children's Book
To help children understand what school will be like, we have created a book that can be read to children by adults.  We will provide a hard copy of this soon but in the meantime you can access an electronic version via the links below.  There are three different versions each with a different presentation to suit families.  The PowerPoint version has a voice-over for the text which children may like in particular (to be played on a PC).  Try all three and see which you prefer.
Early Years Starting School Children's Book – September 2022
Early Years Starting School Children's Book (with sound) – September 2022
Starting School Children's Book – Web Book
Classroom Video Tour
We have created the following virtual tour in order for children to have a chance to become more familiar with  what it is like coming into Harlow Green and accessing the Reception classroom and outdoor area.  Please spend some time with your child watching Miss Herron walk around the site which may help build your child's confidence.