Starting Reception is an exciting time for families as children begin their educational journey.  Choosing the school that parents and carers feel will be the place where their child will thrive is an important decision and one which can bring uncertainty.  To support families who are considering Harlow Green Community Primary School, we understand that providing clear and accurate information is key. 
Although we believe that our website acts as a window into the school – providing a wealth of information and the opportunity to see the interesting activities the children have undertaken – the following specific information and guidance is designed to give the most relevant details that will be needed when considering our school.
Early Years Prospectus
To help parent and carers understand how Nursery and Reception is organised, we have produced a Prospectus which is given to parents/carers when children start school (please click on the image below for a PDF version).  Although we have a lot of information on our website, this booklet will help focus on this particular area of school, especially for those are new to children starting school.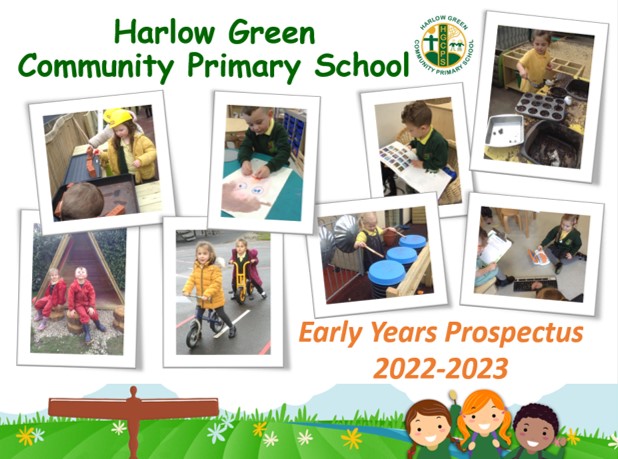 Click here for a web book version of the prospectus.
Starting School Children's Book
To help children understand what school will be like, we have created a book that can be read to children by their adults.  We provide a hard copy to new starters but anyone can access an electronic version via the links below.  There are three different versions each with a different presentation to suit families.  The PowerPoint version has a voice-over for the text which children may like in particular (to be played on a PC).  Try all three and see which you prefer.
Early Years Starting School Children's Book – September 2022
Early Years Starting School Children's Book (with sound) – September 2022
Starting School Children's Book – Web Book
Classroom Video Tour
We have created the following virtual tour in order for our new children to have a chance to become more familiar with what it is like coming into Harlow Green and accessing the Reception classroom and outdoor area.  Over the summer, our new starters can spend some time with their adults watching Miss Herron walk around the site. with aim of help building their confidence.
For anyone wanting to see our amazing environment, this tour will demonstrate how it is designed with high quality resources and in a manner where children can be supported, in a wide variety of ways. to love learning. 
Visits
The information provided above will give some understanding of life at Harlow Green; however, we know that there is no substitute for seeing this in person.  As it is essential that people have a chance to feel like they get to fully see the learning environment and ask questions personal to their circumstances, visits to the school are done on a family-by-family basis.  Anyone wanting to arrange a visit should contact the school office and an appointment will be made.
Phone: 0191 487 6703