Gateshead Libraries have a range of workshops and activities over the summer. Look at the website below for anything that might interest you.
https://www.eventbrite.co.uk/d/united-kingdom–gateshead/gateshead-library/
The Summer Reading Challenge is back in Inspire libraries this summer!  This year's challenge has been developed in partnership with The Science Museum Group, the world's leading alliance of science museums.  The challenge features the Gadgeteers – six fictional young innovators who, using creative thinking and teamwork, plan a party for their town's summer fair celebration.  Gadgeteers will be a celebration of reading, science and imagination.
The challenge, aimed at children aged 4 to 11 years, is to read six or more library books over the summer.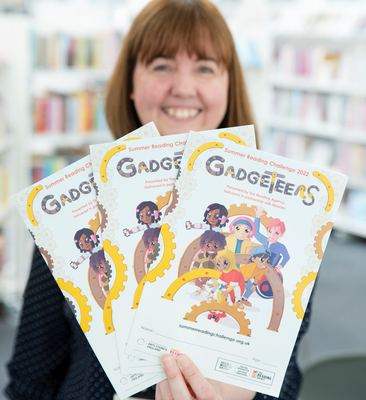 Children sign up at the library to start their Challenge, collecting the Gadgeteers collector poster.
Borrow books and get reading!  Children choose the books they want to read, recording what they have read in their poster.  Library staff and volunteers are on hand to chat to children about books they have read.
For every book read, children will pick up stickers (some are smelly!) along with other rewards.  They will also discover the inventive ways the Gadgeteers are getting reading for their summer party.
Every child who completes the challenge, by reading 6 library books, receives a medal and certificate.
It's all free, fun and a great way to keep children reading over the summer holidays.