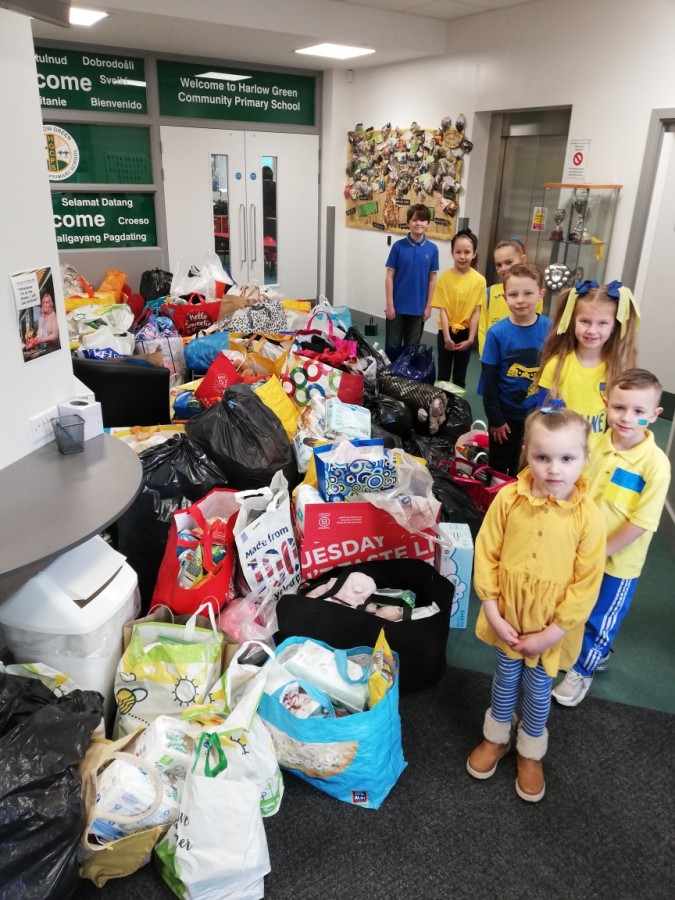 Unbelievable, heart-warming, amazing … these are just some of the words that can't fully describe the generosity that has been shown by our community with the aim to support those affected by the invasion of Ukraine.
This week, each day, bags were being dropped off by children and family members so that, by Friday, the foyer was taken over by the mountain of good will.  We also know that people from beyond our community have contributed through wider family members and friends who have felt that they could support this cause through our collection.
What has been clear, in conversations with parents/carers, staff and children, is that there is a huge amount of concern but also determination to do what we can to support.  In the lead up to our plans, we had children directly asking staff about what they could do and sharing their ideas because they know that, even as children, they can have an impact.  Today, as a mark of support and solidarity, children and staff have come into school in the colours of the Ukrainian flag. as suggested by one of our pupils.
In everyday life, children will have their usual rollercoaster of success and failure, both in class and in their social activities.  However, when something as important as the care for the most vulnerable arises, we know that our children become focused, take all they have learned through the years of development within their families, supported by school, and  they act to make a difference.  We couldn't be more proud of them!
We hope that everyone understands that the help you have provided will have a significant impact on many people who need the greatest support at this terrible time.  On their behalf, I offer one simple but powerful phrase: Thank You!