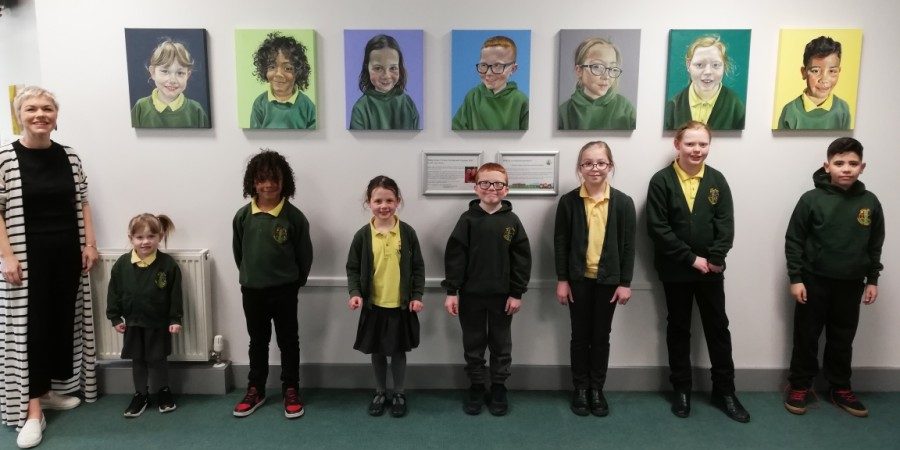 As you may remember, back in the beginning of December, we shared information about an art project that would be taking place at Harlow Green, which would see artwork being specially created for our school.
Leanne Pearce, artist and parent of children who attend Harlow Green, wished to work with us to produce some portraits for the school, but in a way which would support children's understanding of art.
Over the last few weeks, after presenting the beginning stages of her paintings to the children in assemblies, Leanne has been hard at work on her masterpieces.  The main aim of the project was to share with children the process of an artist so that they could develop an understanding of how they work.  Thankfully, using modern technology, Leanne recorded her long process which was then presented to the children in another set of assemblies.
When the art was revealed, the children were in complete awe of the finished portraits!  They were greatly impressed that they could immediately recognise the images of their classmates and friends from across the school, as if they were looking at photographs.  During the assembly, it was talked about how the paintings reflect that each Harlow Green child is unique but that they are also part of the same community, which binds us all together.
From the comments and questions the children shared, it appears that many have been inspired in relation to their own art and we will look to develop this with a further project now on the horizon.
We would like to thank Leanne for her absolutely amazing work.  Not only has this helped create a wonderful entrance to the school for visitors to experience, but children have been given the opportunity to glimpse into the work of a professional artist and it has helped them consider their own enjoyment of the subject.
The video below shows how Leanne worked through each portrait – speeded up, of course!