After what we hope has been a wonderful summer for you all, we are very much looking forward to our children returning to school on Tuesday 6th September, along with our new Reception class starting their first day.
When returning from a summer break, it always takes a little time to re-adjust and to remember some of the school routines.  As a result, we thought it may be helpful to provide some basics which can be seen below (New Reception starters have a differently scheduled week which parents/carers have been informed of).
Start Times:
The school day starts at 9.00am but the doors open from 8.45am for a 15-minute staggered start.
Children should come onto site between these two times, rather than coming on site too early, which will allow them to walk straight into class.
Finish Times:
Reception (normally), Year 1 and Year 2 have a finish time of 3.15pm.
Year 3, Year 4, Year 5 and Year 6 finish at 3.20pm.
Entrance/Exit Points
Nursery to Year 2 children enter and exit via their classroom doors.
Year 3 and Year 4 enter and exit via the hall entrance at the front of the school.  At the end of the day, parents/carers should line up at the designated class points at the front of the school and wait for children to be dismissed, one at a time.
Year 5 and Year 6 enter and exit via the door at the back of the school.  At the end of the day, parents/carers should collect from the MUGA, also at the back of the school, where staff will bring the classes to be dismissed.
The following map shows these points.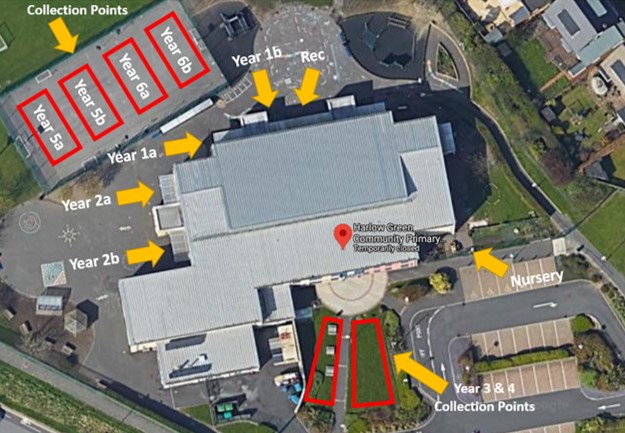 PE/Forest School Days (For the first day back, all children should wear school uniform):
Children are expected to wear their PE kits all day on the days they have PE or Forest School.
These kits must consist of trainers, black tracksuit bottoms/shorts, white t-shirt and green hoodie.
Year 1a     Tuesday & Wednesday         Year 1b     Tuesday & Thursday
Year 2a    Tuesday & Wednesday         Year 2b    Tuesday & Wednesday
Year 3a    Monday & Friday                    Year 3b    Monday & Friday
Year 4a    Tuesday & Wednesday         Year 4b     Tuesday & Wednesday
Year 5a    Monday & Thursday              Year 5b     Tuesday & Thursday           (Year 5 Thursday session is swimming)
Year 6a    Monday & Thursday              Year 6b    Monday & Thursday